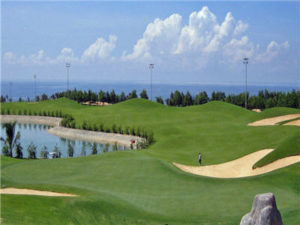 Sea Links Golf and Country Club in Phan Thiet is the first links golf course in Vietnam. Situated on a cliff and sandy dunes, it is built on a 134 hectare area, 60 metres above sea level and with some amazing views of the ocean below. This Vietnam golf course lies in the heart of a simply breathtaking countryside. There are miles and miles of golden sands, the ocean and many nearby attractions. Sea Links Golf and Country Club is well serviced by many excellent Resorts, hotels and restaurants. Not only does it offer a golf course, but it is also an ideal place to visit, relax and reside.
Sea Links Golf & Country Club has a warm and perfect golfing climate all year round. Playing golf at this Vietnam golf course means you will never need to worry about the bad cold weather of the North Vietnam or the heavy rain of the South. With the talent and experience of the architect Ronald Fream, as well as the famous name of GolfPlan Design Company of the United States, the owners of this Voetnam golf course believe that SeaLinks will be one of the most beautiful golf courses of Asia. Furthermore, they want SeaLinks to become an internationally ranked golf course so that when people think of Phan Thiet, they will think of playing golf, and playing golf at Sea Links.
For the last few years, according to Vietnam tourism board, the attractiveness of the golf courses in Vietnam plays an important role in the increasing of tourists to Vietnam. And as the Directors of Sea Links Golf and Country Club believe, Sea Links will attract a lot more international tourists. Moreover, this ecological tourism place provides more than 500 jobs of all levels, and hence help the local government and people. If you're planning a golf holiday to Phan Thiet or are going to be anywhere golfing in Vietnam, try out Sea Links Golf and Country Club.
Detailed Golf Course Information
Holes:
18
Par / Yard:
72 / 7623
Established in:
2008
Designer:
Ronald Fream, Golfplan
Max.Golfers per Group:
Location:
Phan Thiet
Weekday:
4
Weekend:
4
Golf Set:
$ 30.-
Weekday:
$ 25.-
Umbrella:
$ 5.-
Weekend:
$ 25.-
Shoes:
$ 10.-
Driving Range:
Yes
Facilities:
Accommodation, Fitness, Massage, Restaurants, Sauna, Snooker, Spa