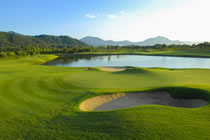 Golfers have finally discovered Vietnam. It is a good choice for a golf vacation, including some unique once-in-a-lifetime sightseeing excursions.Experience the unique Northern Thailand culture; rich in culture, spas, massage, crafts, temples and natural beauty. These two great golf destinations makeup one of the most unique golf experiences in the world and after you play the best golf courses in Vietnam and Thailand, you might come back yearafter year! The Vietnam-Thailand Golf and Sightseeing Tour is proving to be one of our most popular golf tours and whether you're on a budget or want to see Thailand and Vietnam in style, this tour is for you. All Vietnam golf courses can be selected by you or have one of our Vietnam golf advisors choose for you.
Day 1: arrival in Chiangmai – transfer to your hotel of choice and check in
Day 2: golf at Alpine Chiangmai (formerly Lamphun; recently renovated and upgraded to be one of the north's best)
Day 3: half day 'Best of Chiang Mai' temple tour, visit the city and explore the tempels.
Day 4: golf at Chiangmai Highlands Golf & Spa (excellent course; scenic & highly recommended)
Day 5: full day 'Doi Inthanon National Park Tour' winding to the top of Thailand's highest mountain (take a jacket, it can be cool). Along the way stop at the King and Queen's twin pagodas, see one of Thailand's most impressive waterfalls, and visit a hilltribe village.
Day 6: golf at Gassan Khuntan Golf & Resort (excellent course; scenic & highly recommended)
Day 7: transfer to Chiang Mai International Airport – depart to Ho Chi Minh City. Arrival in Ho Chi Minh City and half day sightseeing tour, visit Ho Chi Minh City and explore china town, Central Post Office, Notre Dame and museum etc. Afterwards transfer to your hotel of choice and check in
Day 8: golf at Vietnam Golf & Country (challenging course and excellent greens)
Day 9: golf at Long Thanh Golf Club (Rolling fairways, artificial lakes)
Day 10: full day 'Mekong Delta' sightseeing tour, (#1 attraction in the South) including temple visit, river and canal cruises, cultural attractions and lunch
Day 11: golf at Song Be Golf Resort (Vietnam's first international standard course)
Day 12: transfer to Ho Chi Minh Airport – departure to Bangkok – depart to home country.
accommodation in Chiang Mai (6 nights with daily breakfast)
accommodation in Ho Chi Minh City (5 nights with daily breakfast)
all green fees (6 different golf courses)
1 Caddy per golfer at each course
flight: Chiangmai to Ho Chi Minh City and Back
airport Transfers: arrivals & departure Chiang Mai & Ho Chi Minh City
all Transfers to the golf course and back
all transfers by VIP executive mini-van or limousine
all taxes and service charges
golf hotline 24 hours
Recommended choice of Accommodation:
Imperial Mae Ping Hotel Chiang Mai – 4 Star
Duxton Hotel Ho Chi Minh City – 4 Star
Ratilana Resort & Spa ChiangMai (Formerly Sofitel Riverside) – 5 Star
Rex Hotel Saigon – 5 Star