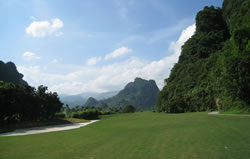 Within 1 hour from Hanoi you will reach the beautiful area of Halong Bay on Land. Phoenix Golf Resort has spectacular sights as the limestone outcroppings come into performance on many of the holes. The golf resort host 54 holes and is the biggest golf course in Vietnam and second biggest in Asia. Phoenix Golf Resort is designed by famous Ronald Fream. The 3 courses all creates use of serious fairway and natural undulations as well as brilliant redirecting through and around the unique-looking limestone cliffs. Extra Japanese and Korean style contribution make sure that the setting is both well secured and amazing at the same time.
Phoenix 3 courses are known as Phoenix, Dragon, and Champion. The Champion is a links-style golf course, while the other two perform in a more tremendous mountain design. You may like to try the Arizona course, but be sure not to skip just one hole on the most amazing and best - the Dragon course.
The front-nine may well keep you astonished; such is its extraordinary elegance and strength. You can restore your breathing on the inward-nine, where the structure progressively delivers you back towards the clubhouse to a ending expand that also contains many magnificently designed, examining and perfectly holes. The long par-4 Eighteenth, with an in-depth watering ravine defending the top left of the green, is as challenging and ending hole.
The large clubhouse is from European design offers every contemporary comfort to all golfers playing at the Phoenix Golf Resort. Unfortunately, despite the use of brought in components the features are unsuccessful due to deficiency of servicing, inadequate team assistance, and a common sensation of incompleteness. Therefore, it is suggested to golf and get back to Hanoi before experiencing any after-round leisure, meals, or enjoyment.
Detailed Golf Course Information
Holes:
18
Par / Yard:
72 / 7,206
Established in:
2006
Designer:
Golfplan, Ronald Fream
Max.Golfers per Group:
Location:
Hanoi
Weekday:
5
Weekend:
5
Golf Set:
$30
Golf Cart::
$40
Umbrella:
$5
Weekday:
$ 30
Shoes:
$ 15
Weekend:
$ 7
Driving Range:
Yes
Facilities:
Accommodation, Massage, Sauna, Swimming Pool, Restaurants, Pro shop